Officially Unofficial
This website is intended for fans of Marcus Gilbert. It is completely unofficial and not sponsored by the actor. Any views expressed are those of the site owner and/or the site's visitors except that text in green is written by Marcus himself.
Navigation
---
About
Bio
Filmography
Marcus on Early Screenings
Marcus on Adverts
Trivia
---
Theatre
An Ideal Husband
Cabaret
For King and Country
The Pleasure Principle
What the Butler Saw
Starry starry night
---
Locations
Belvoir Castle
Burghley House
Wrotham Park
---
Advertisements
Nescafe Gold Blend
Lee Jeans
---
Fanzine
A Hazard of Hearts
Battlefield
Biggles
Chameleons
Ghost in Monte Carlo
Jonathan Creek
Legacy
Sherlock Holmes
Rambo III
Riders
Robin of Sherwood
---
In the Press
A Hazard of Hearts
An Ideal Husband
DWM Battlefield
DVD Times - Battlefield
---
Archive
Newsletters
---
Shop
Films for sale
Marcus on eBay
---
Login
Forgotten your password?
Request a new one
here
.
Hazard of Hearts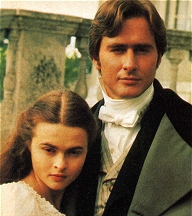 CARTLAND ON SCREEN

Whatever you might think of the romantic escapism of a Barbara Cartland novel, and she's written 465 of them, they have certainly entertained millions all over the world. But only recently has one of her books been transferred to the screen, A Hazard Of Hearts. Barbara, now 86, recently told me it was written in 1948 and was the first of her costume - period novels. "I've written nothing else but period stories ever since," she said.

Released by MGM/UA Home Video, A Hazard Of Hearts has an all-star cast in Helena Bonham Carter, Diana Rigg, Edward Fox, Marcus Gilbert, Fiona Fullerton, Christopher Plummer and Stewart Granger.

Lavishly filmed in some superb English locations, it revives memories of the sort of films we Brits were so good at making under the banner of Gainsborough Pictures in the Forties. In fact the famous Gainsborough lady symbol appears at the start of this production, costing ?4 million and directed by John Hough.

This early 19th-century story of a young girl, Serena, orphaned by the death of her father and then caught up in a tale of romance, intrigue, smugglers, decadence and danger, contains all the ingredients you expect of a Cartland romance. The starry cast play their roles with an obvious relish, particularly Diana Rigg deliciously flamboyant as a wicked lady. Edward Fox makes for a roguish, dastardly villain, while newcomer Marcus Gilbert admirably portrays the handsome hero, Lord Vulcan. Pure romantic escapism, and well served up as a tasty dish of likeable hokum.

From Photoplay magazine, May 1988

See full size photo here: PHOTO

LOS ANGELES TIMES 4 SEP 1987

A three page news story written by Nancy Mills, about the making of A Hazard of Hearts appeared in the Los Angeles Times dated 4 September, 1987, and can be read online here: http://articles.latimes.com/1987-09-04/entertainment/ca-3867_1. A big thank you to Nicole Aura for finding the link and bringing it to our attention.


Support us by shopping at
Quotes
'Such a little hand to hold the honour of Mandrake in its power' - Lord Vulcan, A Hazard of Hearts
Missing Child
Please keep watch for missing British child Madeleine McCann who disappeared as a toddler in Portugal on Thursday 3 May 2007. Ring Crimestoppers on 0800 555 111 or click the image to go to the Find Madeleine website.